It's taken me a long time to be able to write this. The album was released through PledgeMusic in May 2014 and, strangely, it has taken a much longer time than anticipated to be able to share my own thoughts on this…
Cast your mind back to 2012. I'm in Bristol, with some very good friends, catching up briefly and sharing stories. My friend mentions an upcoming project between two of his favourite artists, Willie Dowling and Jon Poole. I am very interested and excited by this prospect – as I love both of their writing styles, crazy instrumentation and pop sensibilities, and immediately want to hear what it will sound like. Nothing is certain at this point, but things are in the pipeline. I quiz him about this regularly to see if there are any more developments.
Nothing much happens for a while (as the respective members are busy with other musical endeavours!) but then at the end of March 2014 there is an announcement – that the project will be launched at the start of April! Excitingness occurs – as the project seems to have taken off, and been recorded – however slight trepidation, as the artists are using Pledgemusic there is potentially the chance that they won't get to 100% of their pledge target – and the music will not be released.
We find that the album is to be called Bleak Strategies (which sounds a little forlorn to start with) however there are video updates aplenty. On watching these, both me and my own musical compatriot Taz, comment on how happy they look working together in the studio. We remarked on the similarities they had to us – both of us love working with the other and feel like we've found a musical "equal" who will both challenge and inspire to write and perform better (and a great friend as well!).
There's just one thing that doesn't sit well with me – there is one video in the Pledge campaign where the mascot for the album and who features on its cover, a mannequin named Edwina One, is being washed/cleaned in preparation for her "starring role" – I'm unsure what the story is meant to be, apparently she was found in a lake – but needs to be washed. The video update about this seems very unashamedly pornographic – soft focusing or blurred focus and hands suggestively cleaning the mannequin's "skin" – it seems a rare moment of bizarre female objectification and leaves me feeling rather uneasy watching the video. The music being showcased, a song named Clean, is very strong though – with Givvi providing lead vocals. I didn't think by any means that the album would be an "easy" listen – as both writers contributing tend to tackle difficult, political and unusual themes in their songs – however this is a different kind of unease!
Excitement builds within their fan-sphere. The project reaches over 100% (HURRAH!) and so will be released. I share the link to the campaign with lots of friends, who I know will like the music – and who like the teasers of what they hear, and also sign up to the Pledge. Some also buy gig tickets too! The date is set for the digital release day, however this is one of the most inconvenient times ever for me – I am working in the Manchester office at this time, and will be working late into the evening!
The release day comes, and Jon and Willie start the party from 7pm. I explain to my work colleagues about the album release and manage to slip away early at around 7.40 to be able to listen to the music as well. I run upstairs to the hotel above MediaCityUK, and download the music and start playing.
It initially reminds me of Jellyfish, Blur, and many many other things I can't quite put my finger on. Pop. Punk. Oi! Music hall. For the first listen through, I am taking it all in. The band and fans are being very active on Twitter as well – there's lengthy discussion about songs, songwriting, opinions and meanings aplenty, and a massive "community" spirit going on too. People are excited. The time passes in a blur. The album finishes. It's as if I have stepped into a rubbery world where time isn't quite right, and I know I've heard something new, different and completely attention-seeking that won't stop demanding to be played.
And so on the album goes again. And again. And again. At around 10.30pm I realise the air-con has been on ferociously strong for the past three hours, and I realise I'm freezing cold – but also don't care! Manchester looks delightfully twinkly below. An early start beckons, and so bed is called for. But it feels like something has changed – it's a very long time since I heard music and felt it had effected a profound difference.
The morning comes – but I am up very early and manage to fit in another listen to the album before work. The Sun Is Mine feels so incredibly relevant – Manchester is normally grey when I visit (it always rains!) and so seeing some sun rays from the daybreak is soothing – much more so with a perfect soundtrack!
I play Saving it All For A Saturday to my work colleagues, at the start of the meeting – who start doing a bit of a dance to it, and comment on the storytelling, life-snapshot contained in its cheery words and tune. One of them is very interested – and buys the album there and then online!
The work finishes, and I am off home again. My flatmate has bought the album and wants to have a chat about it – we listen again at home. And re-listen. And re-listen. Many other reviewers have said the same thing too – that the more you listen to it, the more you hear – whether it's a mix-buried "you little fucker!" or a combination of perfect instruments tooting and plucking a melody. The arrangements are complex, and there's even more the deeper you delve.
And even so – months later – there is still much more to be heard in the music. They played some Pledger-only gigs, which I was very lucky to attend two of. There was another brilliant invite-only gig at the 12 Bar Club in London, to help generate press – which was also great (and feeling very much like part of a community spirit of people who wanted to see them do well, also!)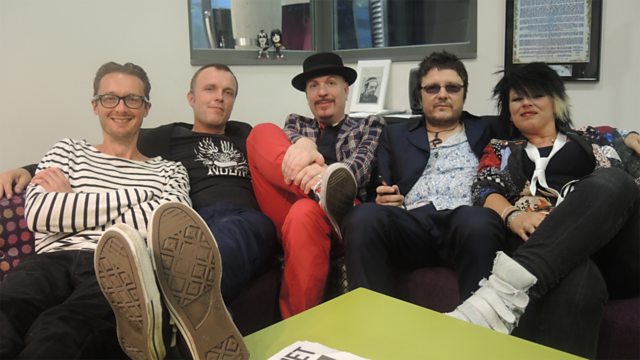 The band also performed a live session for Marc Radcliffe, bolstered with live drums and bass – which has been recorded for BBC 6 Music, who have aired a few of their tracks over the past month. Interestingly (well, for me, anyway!) my first listen of the album took place around 10 floors above where the band played their first radio session!
There's now even more excitement as they are doing a short acoustic tour, playing 5 dates next week, across the country!
Why don't you snap up a ticket too – I can guarantee, if you like music, you will like their music – and they will entertain you for an evening as well.

All that remains to be said is that this album (and any more music they wish to play!) will always be on rotation here. It's guitar based powerpop at it's most sensible and silly. Deep, meaningful, quirky, delightful and currently woefully underrated!